Take the #STOPCutsToClassrooms Social Media Challenge
62% of voters believe the federal government spends too little on public education (it accounts for just 2% of the budget).
Do you agree? Join National PTA in telling Congress to #STOPCutsToClassrooms.
Sign our petition, print out our official sign and challenge your friends to do the same!
De

spite the best of intentions, reading and writing often take a back seat to other activities over the summer—speech-language pathologists working in schools often see a literacy lag as students return to the classroom. Don't panic! Instead, plan to use the 10 days before school starts to get your child up to speed. 

Read more

.

Whether they are just starting elementary school or are getting ready to graduate high school, every parent wants their child to have the knowledge they need to be successful in the future. However, sometimes it can be difficult to keep track of everything your child needs to know. That's why National PTA created the Parents' Guides to Student Success. 

Read more

.

August is always a stressful time for parents sending their kids back to school, especially for parents of children with severe allergies. Anaphylaxis is a life-threatening allergic reaction resulting from exposure to allergens. Whether your child has a severe allergy or not, it is up to all of us to make sure that we keep schools as safe as possible for all children. 

Read more

.

Go Back-to-School with USA TODAY

 Get ready for the school year by checking out the 

USA TODAY Back to School Magazine

.

Find everything from school supplies to creative snack ideas by visiting 

usat.ly/2uQjVco

.

What Makes a Good ESSA Report Card?

Did you know that there are four different kinds of report cards? It's true! Student, School, District and State Report Cards are required by ESSA, the new K-12 education law.

Watch 

this recorded webinar

 to learn how these report cards equip parents to make better decisions concerning their children's educational opportunities and become more effective advocates. 

Watch now

!

Become a Monthly Donor to National PTA!

For 120 years, National PTA has been a powerful voice and advocate for all children. Become a monthly donor and you can make a difference in the education, health and welfare of children across the country. For more info, visit PTA.org/MonthlyGift.
$1 Million Available from Tom's of Maine for Green Classroom Projects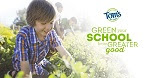 This back-to-school season, tell your school's teachers how they can help kids learn about and care for the planet through the Tom's of Maine Green Your School Fund.  
$1 million is available to public schools nationwide—teachers can learn more and submit a project at GreenSchoolFund.com.
The Right Part-Time Job May Be Just Around the Corner
Flexible, part-time schedules. Family-like environment. Career growth and opportunities to earn additional income. Consider a career at H&R Block!
National PTA Headquarters

1250 N. Pitt Street

Alexandria, Virginia 22314
1250 N. Pitt Street, Alexandria, VA 22314